Corona Virus Update
Due to the threat of the Corona Virus, the Robert C. Byrd Federal Courthouse and Charleston Federal Credit Union will be closed to the public thru April 24th. We want to assure you that your credit union will be doing everything within our power to meet your financial needs and make this time as stress free as possible.
Someone from the credit union will be in the office every business day during our new business hours of 10 – 2 Monday - Friday. If you need assistance outside of these hours just give us a call and we will do our best to accommodate your needs.
Because we updated our system on October 30th to a "live" environment, you will see little to no change to your financial processing such as payrolls, ATM transactions, check clearing and electronic debits & credits as this will be done thru our processor, FedComp. Several years ago, FedComp began to change their work environment by allowing their employees to work at home so the shelter in place will have little to no effect on their employees and all electronic transaction will process as scheduled.
If you need to make a cash/check withdrawal from your account or drop of a deposit or payment, please feel free to give as a call at 304-347-3393 or send us an email at service@charlestonfcu.org and we will gladly meet your in front of the federal building to accommodate your request. Thank you for choosing Charleston Federal Credit Union to meet your financial needs and we look forward to serving you for many years to come.
---
Welcome
Charleston Federal Credit Union has as its mission the responsibility for providing an efficient, effective, and well-managed financial institution that meets the needs of its membership. In order to accomplish this mission, the Charleston Federal Credit Union will continue a sound yet progressive asset management strategy and provide new and improved financial services to current and future members through membership input and management initiatives.
+ Read More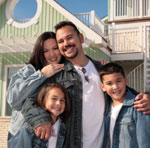 Accounts
Now is a great time to buy that new car you've been wanting. New car rates as low as 3.25% for 5 years or 4.25% for 6 years for loans with automatic payments. We are also offering a new TransUnion credit score discount where you can get an even lower rate based on the credit score of the primary borrower!!!

Give us a call if you want more information.

+ Read More